Since 2018, the Jewish Heritage Festival lost three significant family members. Gloria Max, Lynn Goldovitz and Marta Heller were not only significant contributors to the Festival, they were dear, dear friends and they will be sorely missed at the 2022 Festival. Here, we pay tribute to them. Z"L. May their memories be a blessing.
Marta Heller (1966-2021) was a dear friend to the festival especially to the Committee that creates, organizes and manages this biennial event. Marta brightened our meetings with her humor and her smile. She also colored our event with joy and more humor.
Responsible for the Non Food Vendors, she created a personal relationship with each of them, learning about their families, their health and their business ups and downs. She often referred to them as "HER VENDORS," and they were!
During this long suspension of festival business we are missing you Marta as we embark on another round of festival fun! Godspeed! You've won your wings, and your sweet smile was needed elsewhere.
The Jewish Heritage Festival dedicates the 2022 Event to Marta.
Lynn Goldovitz (1953-2020) met her future husband and music partner as a teenager in a Rock and Roll band. The band did not last very long, but Joe and Lynn married after high school and, at the time of her passing, had been together for almost fifty years. Throughout all that time, music has been their mutual passion.
Lynn was a vocalist and played electric bass and folk harp. Joe continues to play acoustic guitar and sing as well. Both studied music at the Cape Cod Conservatory of Music. Along with a regular schedule of performing on their own as a duo, they more recently collaborated with some local composers to perform some original music.
The music that influenced them was varied. They enjoyed Folk music and attended the Newport Folk Festival and other New England area performances many times. Classic Rock and Roll was always a fun part of their repertoire, and they played music with a Rhythm and Blues band for a while.
Their career highlights included performances at the Governor's mansion in New Jersey and Ryles Jazz Club in Boston. International performances included four years on stage at the International Klezmer Festival in Safed, Israel and a performance in Auckland, New Zealand.
After moving to Florida,they performed locally at Hard Rock Hotel in Daytona Beach, Gateway Center for the Arts in DeBary, Deltona Art Center and many other central and south Florida venues.
We dedicate the Jerusalem Stage at the 2022 Jewish Heritage Festival to Lynn Goldovitz.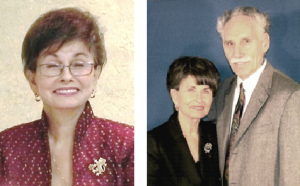 Gloria Max (1940-2021) was the heart and soul of the Jewish Community in Volusia and Flagler counties, representing the very best of our community. She worked for the betterment of everyone, Jew and non-Jew alike and was dedicated in her support of Israel and its safety. Her smile was infectious and her spirit was indomitable.
Gloria was one of the earliest and most ardent supporters of the Jewish Heritage Festival. She was the driving force behind the annual drive to provide school supplies to thousands of students in Volusia and Flagler counties as well as The Jerry Doliner Food Bank.
Gloria was the longtime executive director of The Jewish Federation of Volusia & Flagler Counties, where she and her husband Ray also ran the federation's food bank and started an annual Operation Backpack program.
"Helping others was something she championed. It became a way of life for her," said Marvin Miller, the federation's board president, of Gloria. Gloria was honored in 2020 by The Daytona Beach News-Journal as the Volusia-Flagler area's "Most Influential Woman of the Year" because of her tireless eff orts to help those in need.
"Losing Gloria Max is a tremendous loss," said Forough Hosseini, founder and chair of another area nonprofit called Food Brings Hope. "She worked day in and day out 365 days a year for the betterment of our community. She's irreplaceable."
We will miss Gloria's beautiful face at the Festival this year and we will remember her with great love and respect.